Summer 1994 – a Sting CD is purchased online at NetMarket, one of the first e-commerce sites; some months later, a large pepperoni pizza is ordered at PizzaHut via PizzaNet, an ahead-of-its-time program that allowed computer users to place orders via the internet.
In those days, few would have even imagined that a new phase of the digital revolution began: the digitalization of everyday tasks. As from the 2000s, the democratization of internet access further pushed the transformation. Recently, the Covid-19 pandemic exponentially accelerated customers' use of digital channels and accomplished some important shifts, that would have normally taken five-six years to achieve.
Despite the gloomy predictions about a future, post-apocalyptic world where machines would replace humans, a new, balanced concept came to life: the BIONIC ORGANIZATION.
What is a bionic organization? And why should you be interested in it?
Bionic Organization: What Is It?
The Boston Consulting Group defined the bionic organization as the combination of the strengths of human – such as unicity and flexibility, and technology – replicability and scalability, to create superhuman or bionic, capabilities.
The bionic organization is characterized by three elements, intertwined:
Digital Dexterity

Employees at the bionic organization have a new set of attributes, design, and technical skills that allow them to operate successfully in a continuously changing digital world. They are flexible, adaptable, and able to learn. They are collaborative and creative and have critical thinking. They are organized in small, autonomous, cross-functional teams that are built and empowered to make decisions quickly. Team leaders have fluid governance: they clearly define key objectives, promote autonomy and agility; remove roadblocks, ensure the right talents are allocated to the right task, and grant access to relevant data and resources. This platform structure is more fluid and eases internal and external interactions.
Modular Technology

The bionic organization shifted from hardwired systems, hard to test and maintain, and that slow innovation to modular technology, even known as "ravioli structure". In a modular structure, each component is neatly packaged and can be easily modified or replaced without significantly affecting the other components, making it easy to reuse and decouple development from one part to another. Modularity is enhanced by APIs (Application Programming Interfaces) that enable technologies to communicate with each other, being fluid and granting easy interactions.
Data and AI

Data is the lymph of bionic organization. Their focus is on where and how they can create value from data. To drive real impact, data is analyzed through new advanced analytics techniques and results are used to continue learning and create new ways of working.
Why Should You Be Interested in Bionic Organization?  
The new landscape created by the COVID-19 pandemic accelerated and consolidated the use of digital channels. Even if with the ease of the global situation we assist a comeback of physical channels and digital growth has plateaued, digital adoption stays well above pre-pandemic levels. The Food Sector is the most representative example of this impressive shift toward digital. Some figures can better render the change: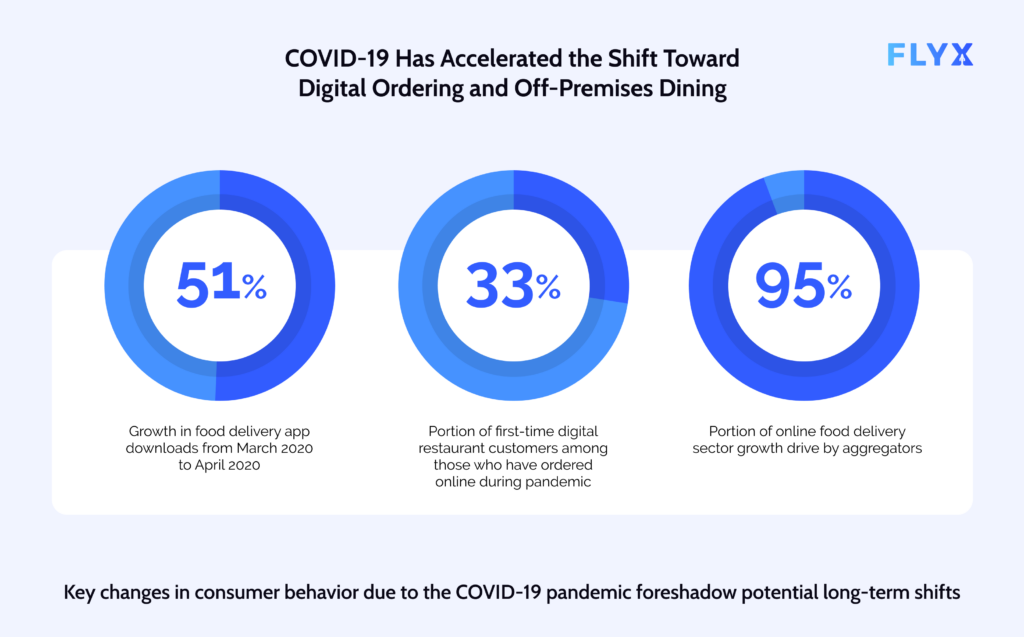 Delivery's market share jumped from 7% in 2019 to about 20% in 2020. Across the industry, digital ordering increased from 10% before the pandemic, to 28%.
This is for sure good news as digital customers tend to be more valuable: their purchase frequency is about 50% greater than for non-digital customers. It also raises new challenges: how to hold on to newfound customers?
First, not all brands are equally prepared to sustain and grow their digital share. There is a bigger and bigger gap between brands that consistently invest in new sets of digital capabilities and had pre-pandemic robust digital assets and infrastructure – such as mobile app, personalization, and loyalty programs.  For those brands, the new landscape is the optimal digital stress test, the opportunity to evaluate their assets and the customer experience. They are well-positioned to maintain and/or accelerate their digital sales growth. And others far behind, without mature digital capabilities and who are desperately trying to catch up. For them, these newfound sales could be at serious risk.  
Second, leading companies realized that technology is not all. Digital infrastructure represents only 30% of the winning mix and taking full advantage of it requires the human boost, the remaining 70%. It takes human input to interpret data, to truly understand what customers want, and apply strategic considerations – in short, to create value from it.
It is fundamental to hire and develop people with such essential digital skills as data science, digital architecture design, cybersecurity, software development, and digital marketing along with collaboration, critical thinking, creativity, emotional intelligence, and learning agility.
"It's about people who have the ability and desire to exploit existing and emerging technologies.

It's all about people who are customer "empaths", skilled mentors, and process hackers.

It's all about people who are collaborative, agile, analytical, and creative"

 

Tina Nunno, vice president and Research Fellow at Gartner Symposium/ITxpo 2017, Orlando Florida     
Only the combination of technology and human skills will allow companies to really understand and keep pace with this new and changing reality.
Flyx can successfully accompany and support your company's digital transformation through cutting-edge, customizable technologies. Our solutions enable our customers to create a personalized, fun, simple-to-understand, omnichannel customer loyalty experience, and to manage all the different digital sales channels through one single system (OMS). Contact us to discover how.